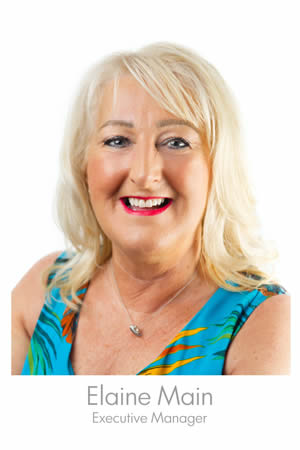 Elaine Main
Executive Manager
In her role at Aberdeen Chiropractic Clinic, Elaine is the right-hand person to Eline, ensuring that the team works cohesively and the operations of the clinic run smoothly in our founder's absence. With Elaine handling those responsibilities, Eline can focus on building her clinic and other overseas businesses. "I help maintain business continuity, manage our team, and keep Eline abreast of what's going on in her clinic."
The Path to Aberdeen Chiropractic Clinic
In 2013, Elaine, who had a background in insurance and risk management, had her own business and served as a consultant. She started doing work with Eline. "She was still at the Aberdeen clinic at that point and sought to move and change the position of the business and start working abroad, but still remain with her clinic here."
After going through a significant health challenge, Elaine had to close her business for a period, and in 2015, Eline took her on as an employee.
Experiencing the Effects of Chiropractic
Although she had insured many chiropractors, Elaine never understood exactly what they did until she met with a chiropractor at a business meeting in 2013. That doctor introduced her to chiropractic care for a sore knee.
Though Elaine thought it was age-related, the chiropractor was quick to tell her that age is just a number, and something was wrong that needed to be addressed. The chiropractor got excellent results for Elaine and her knee felt so much better. She continues to be a chiropractic patient to this day.
EXPLORE OUR SERVICES »
Witnessing People's Lives Change
For Elaine, the most fulfilling part of her job is watching people change when they receive chiropractic care. She sees many patients' lives turn around when they get out of pain, and can return to what they love in life, whether it's sport or playing with their kids.
Elaine finds it amazing what the team can do for patients when they come in.
The doctors here are marvelous. I always think they have magic hands."
Being Part of a Friendly Team
Elaine also enjoys being part of our caring and friendly practice team. "Our clients love everyone here from the front desk to the chiropractors. People leave the clinic feeling good, including myself!"
Outside the Practice
When she's not working, Elaine enjoys being a grandmother to her eight active grandchildren. "They keep me young!" She's also happily married and has four children.
Book an Appointment
Contact us today to schedule an appointment!


Elaine Main | 01224 585 456