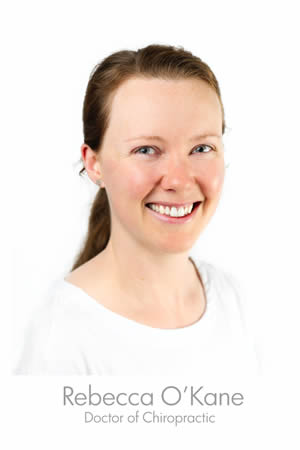 Meet Rebecca O'Kane
Doctor of Chiropractic
I love to work with people on their health journey. My passion is to assist people in improving their vitality and living their best life."
Taking the Chiropractic Path
Rebecca started seeing a chiropractor as a teenager, so knows first-hand the benefits it can provide. She has always been passionate about holistic healthcare, and decided to pursue a career in chiropractic.
Growing up in Australia, Rebecca went to Murdoch University in Perth, graduating with her chiropractic degree in 2015. She has previously worked as a locum throughout rural Western Australia.
Helping Patients Across the Spectrum
Friendly and compassionate, Rebecca takes great care in getting to know each individual she has the privilege of working with. "I seek to get an idea of what's going on in the person's life and figure out how we can work together to meet their health goals."
Rebecca enjoys working with people from all walks of life. As she places an emphasis on holistic, patient-centered care, she endeavors to look at the big picture, as well as involve her patients as much as possible in their own care. Rebecca's role is to assist patients in finding ways to make the changes they wish to see in their lives.
Outside the Practice
When she's not at the practice, Rebecca likes spending time in nature, hiking, camping, swimming, and practicing yoga. She also enjoys cooking and spending time with her partner and family.
While Rebecca grew up in Australia, she is originally from Scotland and is delighted to be spending more time in this beautiful part of the world.
Book an Appointment
Contact us today to schedule an appointment with Rebecca!

Dr. Rebecca O'Kane | 01224 585 456