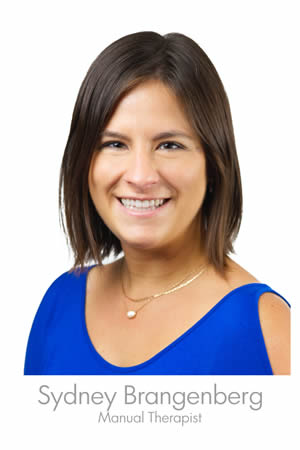 Meet Sydney Brangenberg
Manual Therapist
After visiting our beautiful bustling city and, in particular, our clinic, Sydney wanted to return to Scotland from the United States and plant roots here. "I liked the feel of the office-the environment-and how everyone worked together. It's also awe-inspiring to see Eline's passion for chiropractic."
The Path to Becoming a Manual Therapist
Sydney always knew she wanted to work in the medical profession. After shadowing a few chiropractors and seeing the benefits people received from care, the light went off and she could see herself becoming a chiropractor.
Sydney earned her bachelor's from Millikin University in Decatur, Illinois. She then earned her Doctor of Chiropractic from Logan University in Chesterfield, Missouri in December 2021. In addition to her doctorate, she became certified in acupuncture after completing 100 hours of study. She is currently working under the title of Manual Therapist while here in the UK.
Friendly, caring and open, Sydney takes time to listen to patients and wants to get to the bottom of what their complaint is. She is passionate about helping patients of all ages, from infants to seniors, achieve optimal health with drug-free manual therapy care. Sydney is keen to learn more about pediatric and pregnancy care.
Outside the Practice
When she's not caring for patients' spines, Sydney enjoys traveling and seeing new places. Reading is another favourite activity. Sydney is also close with her family back in Illinois, where she grew up in the country; where her family has lived and farmed for 8 generations. Sydney's family is very close knit and very supportive of her decision to move abroad, and look forward to visiting her here.
Book an Appointment
Contact us today to schedule an appointment with Sydney!