About Aberdeen Chiropractic Clinic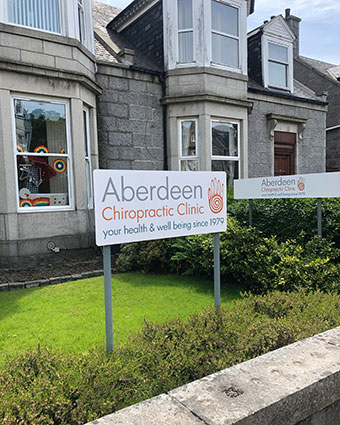 Striving to Maintain our Reputation!
Our friendly and respectful team at Aberdeen Chiropractic Clinic welcomes people of all generations to our multidisciplinary health Clinic. We inspire people to make positive changes to their health and lifestyle at home and in the workplace.
Eline Pedersen MSc, DC Chiropractor took over the practice from Kenneth Bramberg, DC. He established Aberdeen Chiropractic Clinic in 1979. He created the biggest and most known chiropractic clinic in north of Scotland. His reputation brought clients from as far as Shetland and the Orkneys and even Glasgow and Edinburgh.
We strive to maintain his fantastic reputation and we see the proof every day as many of those clients are still coming to maintain their health and wellbeing at our clinic.
Offering the highest level of natural health care with the focus on the individual patient
We at Aberdeen Chiropractic Clinic believe that natural Chiropractic Healthcare and Education is essential for optimal Health and Well Being. Our Purpose is to help the people of Aberdeen and North Scotland to achieve their Greatest Potential with the Highest level of Clinical Standards, Confidentiality and Fairness.
MEET THE TEAM »

The patients that get the best results in our clinic understand that the body is a self-healing organism. Those whom benefit the most are the patients that are committed to their own health, the patients that has taken responsibility over their own well being and is willing to make the changes necessary to reach their health goals. It is the patients that see our relationship as a long term friendship where we as chiropractors are there to guide, but the client is the one in charge.
We welcome you to start a journey with us where you are the boss and we serve your needs to get out of pain, reach your health goals and if you want; to achieve the state of optimal wellbeing. We will be there with you, and support your commitments to your health with endless amounts of free educational material, newsletters, educational web membership, lectures and in-house talks. We are here for you and your family.
Our staff members are all educated Chiropractic Assistants that understand exactly how to best serve our clients needs. They are truly unique and will do their utmost to accommodate you while booking appointments, helping you during your time in our office and making sure your visit is as joyful and smooth as possible. They will not just warm a bottle of milk, but they will easily hold your baby while you get your adjustment. Our staff is passionate about Chiropractic and interested in the Chiropractic stories, so tell them about yours!
What Makes Us Stand Out?
As chiropractors in Aberdeen, we offer a number of well known Chiropractic Techniques that are individually used according to the patients needs and abilities. We are the only Chiropractic clinic in Aberdeen to have in-house digital X-ray and Thermographic Imaging facilities. We offer care for the whole family and we see clients with a wide range of complaints from neck and back pain to arm and leg injuries as well as headaches and a number of other problems. We see pregnant mums, newborn children, infants, children through the school years and different developmental stages, teens, adults and seniors! The majority of our clients once they have sorted their initial complaint chose to receive regular health checks to assure that they stay on top of their health.
Get Started Today
Call our team at Aberdeen Chiropractic Clinic on 01224 585 456 today to get started.


About Aberdeen Chiropractic Clinic | 01224 585 456