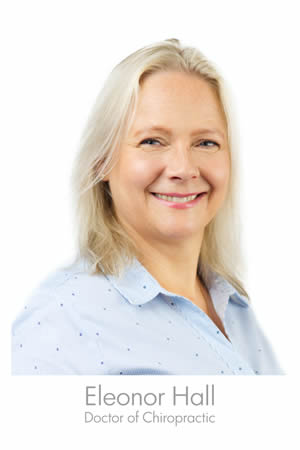 Meet Eleonor Hall
Doctor of Chiropractic
Before becoming a chiropractor, Eleonor worked as a massage therapist. A native of Sweden, she attended massage school in Gothenburg. While there, she was exposed to chiropractic care, as the school was considering offering it as a programme of study. Although that didn't happen, Eleonor was able to try different chiropractic techniques.
The experience made her realise that there was so much more to the human body than simply massage. Then a relative of Eleonor married a chiropractor. Eleonor observed him adjusting patients and decided that she, too, would become a chiropractor.
Education and Experience
Eleonor attended the Anglo-European College of Chiropractic (AECC) in England, where she earned her degree. She uses various techniques and therapies. These include the following:
Activator Methods®
Blocking
Diversified
Drop Table
Dry Needling
Soft Tissue Work
As Eleonor firmly believes in the association between muscles and structure, she will often start with some soft tissue work before adjusting patients.
Providing Care for All Ages
Eleonor sees patients across the spectrum, from young children to older seniors in their 80s and 90s. Prior to working at our clinic, she also cared for many pregnant patients at another practice. As she's well-versed in many techniques, Eleonor provides customised care for every patient.
Whether she's addressing patients' shoulder, elbow or knee pain, or educating a patient about the importance of proper posture, Eleonor is passionate about what she does, and it shows.
EXPLORE OUR SERVICES »
Offering More Than Pain Relief
Eleonor loves being able to help make people feel better and realise that chiropractic does more than relieve pain.
People used to only come in for pain relief, seeing us as a last resort. Then once you get them to understand the importance of chiropractic, they visit us regularly for wellness care because they don't ever want to be in that position again."
Open and approachable, she finds it fulfilling to walk alongside patients on their journey towards getting more out of life.
Enjoying an Active Life
Coming from Scandinavia, Eleonor loves beautiful Aberdeen, particularly how open and scenic it is. She's the mother of four, who range from teens to a 20-year-old. Eleonor stays active by running and taking her youngest, a competitive swimmer, to her meets. Eleonor also opened her own practice in addition to working at Aberdeen Chiropractic Clinic.
Book an Appointment
Contact us today to schedule an appointment!


Eleonor Hall | 01224 585 456