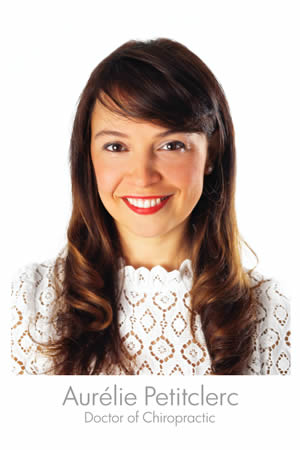 Meet Aurelie Petitclerc
Doctor Of Chiropractic
I like to witness deep changes that patients make—physically and emotionally, and appreciate the fact that holistic chiropractic care can help the body function as optimally as possible."
Experiencing the Effects of Chiropractic
As a teenager, Dr Petitclerc fell and hurt her back badly, and went to many different providers in the hope of getting answers. Fast forward to med school, when she met a chiropractor who changed her life. After Dr Petitclerc got adjusted, it helped her problems significantly. She knew she wanted to enter the health profession, and the holistic approach of chiropractic resonated with her.
Education, Techniques & Achievements
Dr Petitclerc went to the Franco European Chiropractic Institute (IFEC) in Paris. In addition to her chiropractic degree, she possesses the following:
Webster Certification
Certification by the Academy Council of Chiropractic Pediatrics (CACCP) from the International Chiropractic Pediatric Association
Certification in Bio-Energetic Synchronization Technique (BEST)
Qualification as an International Board Certified Lactation Consultant (IBCLC)
"Over the years, I've had the privilege to work in four countries and get trained in many different techniques." The method Dr Petitclerc often uses is cranial sacral therapy. She uses it to focus on headaches, patients' airways, oral ties and jaw issues.
Bioenergetic Synchronisation Technique (BEST) is another method she often utilises. The considerable training Dr Petitclerc undertook has prepared her to address more physical, chemical and emotional issues that patients have.
A highly regarded international lecturer, Dr Petitclerc also gives talks to different associations. She mainly lectures in France when in person, but also does online training on her website. Dr Petitclerc is well-versed in oral function and tongue-tie issues and gives lectures to different symposiums on the matters.
EXPLORE OUR SERVICES »

Enjoying an Active Family Life
When she's not at the practice, Dr Petitclerc enjoys spending time with her two young sons. The family of expats likes to be out in nature and go on hikes. She also likes foraging and used to play the piano when she had the time. Dr Petitclerc also loves salsa dancing and music.
Book an Appointment
Contact Aberdeen Chiropractic Clinic to schedule an appointment with Dr Petitclerc!


Dr. Aurelie Petitclerc | 01224 585 456